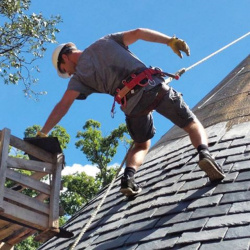 Cranor Roofing installs and repairs real natural slate roofing in Suwanee, Atlanta, Gwinett County, Burford, Duluth, and Johns Creek, GA. Contact us about tile, metal, cedar, low slope, and slate roofing!
What is Slate?
Slate is a fine-grained foliated, metamorphic rock that is easily split into smooth, flat pieces. These smooth, flat rocks have been used as shingles on roofs for over a thousand years. England and Wales excelled in slate making for hundreds of years. Today Spain is world's largest producer and exporter of natural slate. Nearly 90% of Europe's natural slate tiles come from Spain. In the United States a region between New York and Vermont is well known for its slate and produces some of the finest slate product in the world. This region is known for its varieties of distinct slate colors and its consistent quality produced.
Slate for Your Home
When most homeowners think of a slate roof, they assume that it would never work on their house. Too expensive, too heavy, too… too gorgeously lovely. Re-think what you think about slate roofing.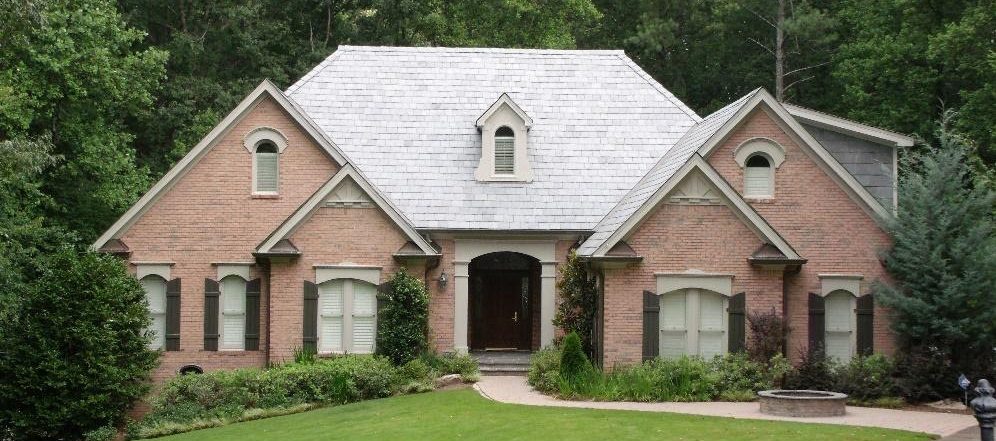 Using improved hook installation methods with updated technological advances in interlayments, Cranor Roofing can install new natural slate with; 1) less weight and stress on your existing structures, 2) increased savings on structure concerns, slate expense and labor cost, 3) same beauty and better performance than traditional slate installations.
Slate's Performance Outclasses the Competition
Truly slate roofs are the most beautiful and durable roofing materials ever used. Slate roofing can literally last centuries. Vermont slate has been known to last up to 200 years. Virginia slate up to 175 years and slate from Wales in the UK up to 400 years. Slate sometimes is harvested off old building and reused on newer structures.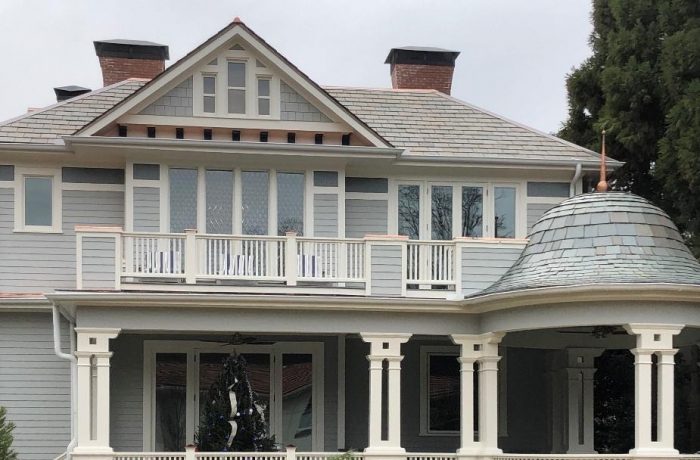 In the United States, cheap asphalt shingles that are replaced every 15 years or after the next big hailstorm dominate the residential market. However, a growing number of savvy homeowners are looking to the beauty and performance offered by slate. Besides saving on future roof replacements the value of your home increases immediately. Adding to the amazing curb appeal that a new slate roof will bring, the functional benefits are remarkable as well.
Longevity – Your slate roofing installation should last over a century, which obviously out competes any manufactured roofing product. Several synthetic slate options are on the market and promise some pricing advantages but nothing else. They all lack the natural beauty and longevity of real slate.
Beauty – Where manufactured roofing products limit your colors and blending schemes, you have a limitless variety of sizes, varying widths, natural colors and blending options to be as unique and original as you wish. Slate has a surprising number of colors that range from several greys, blacks, some red, purple, green and a variegated mixed color.
Environment – While most residential roof materials end up in landfills within a few short decades your slate roofing will just be getting started. Asphalt roof removal waste is a major factor for landfills. They make up between 7 to 10% of all US landfill waste each year. Besides the waste impact, asphalt is a byproduct of oil and, like other petroleum roof byproducts, it is not very environmentally friendly in terms of its "embodied energy cost"—the energy required to produce the product. With a slate roofing installation, you will have a positive impact on the environment. Even after a hundred years slate does not go into landfills. It is used as crushed slate for landscaping. Slate is also a cooler material for home energy savings than asphalt, saving HVAC cost.
Fire Resistant – Slate tiles are fireproof. Not just fire resistant like asphalt or fire-retardant wood products, slate will not burn.
Increased Home Value – When installed properly, slate roofs add significant value to your home.
Discover the Ideal Natural Slate Roofing Design & Color for your home
Samples are available upon request