Cranor Roofing installs and repairs cedar wood shake and shingle roofs as well as quality composite alternatives.
Cedar Roofing Specialists
Many environmental factors can affect cedar roofs including leaves and debris, squirrels and other small animals, excessive shade from trees or other buildings, high humidity and excessive moisture or even too much sunlight. The most damaging factor to cedar roofing installations in our region is the cleaning of mold and mildew. It is true that algae and moss can damage cedar, but the cleaning process almost always causes more harm.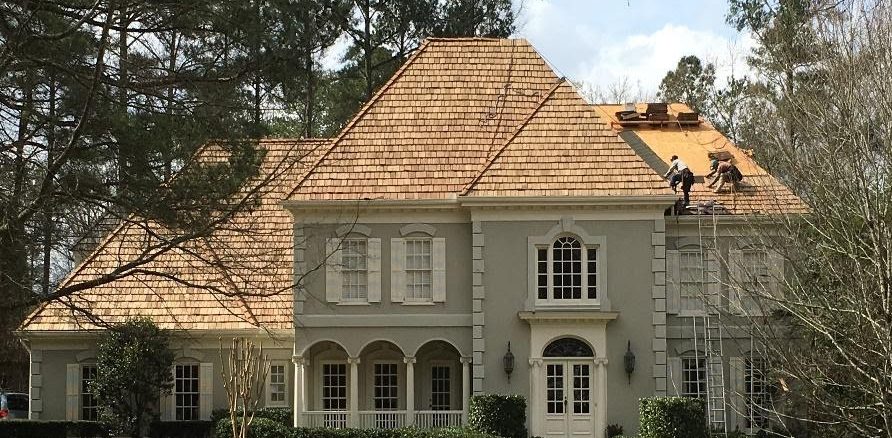 Besides the environmental factors finding a contractor that you can trust to properly install or maintain your cedar roofing can be an even larger challenge. It takes true craftsmanship skills to install or repair a cedar shake or cedar shingle roof. Breathable underlayment, proper ventilation, roof grade product specifications, installation guidelines and the correct type of fasteners are just some of what goes into a Cranor Roofing cedar roofing installation. But let's face it, a new cedar roof is a large job that should be undertaken only if necessary. Cranor Roofing repairs cedar roofs with the same craftmanship that goes into our full roof installations. For more information regarding cedar and the industry behind the product check out the Cedar Shake & Shingle Bureau at www.cedarbureau.org.
Besides the natural beauty of an authentic cedar shake or shingle roof this nature product is renewable, recyclable and sustainable. Cranor Roofing takes pride in the beauty and craftmanship of cedar roofing installation.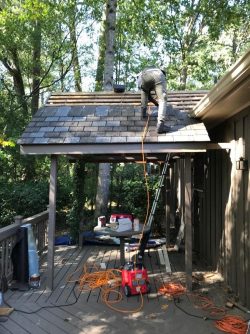 The Advantages of Low Maintenance Great Looking Synthetic Wood Roofs
Changes in building codes and local climate considerations have opened the market to some great alternatives to natural wood roofs.
The look and beauty of cedar without the ongoing maintenance including cleaning, repairs and pest infestations like squirrels make synthetic products more attractive than ever. Several synthetic cedar alternatives are offering surprising value and solutions for the cedar market. The goal is to have the natural cedar-looking roofing material without the constant maintenance and headaches that evidently comes with natural wood. A natural cedar appearance, zero water absorption, elimination of mold and mildew growth, no splitting, cupping or curling, rotting, decay or fire hazard.
The synthetic products are providing so many benefits and a longer life span than the natural material. Cranor Roofing can help you decide what is best for your situation. You can compare samples of various products and pricing options, so contact us today for tile, metal, slate, low slope, and cedar roofing in Suwanee, Atlanta, Gwinnett County, Burford, Duluth, and Johns Creek, GA.
Natural Cedar and Synthetic Manufactures and Resources