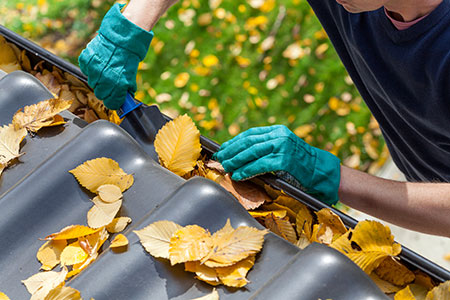 Since we opened for business in 2001, Cranor Roofing has been serving residential and commercial customers in Atlanta and the surrounding areas with high-quality gutter installation, repair and more. Our gutter services include:
Gutter installation: Every home ought to have a good set of gutters. They play a key role in protecting the structural integrity of your home by directing water and debris away from your foundation and helping to avoid water accumulation on the roof itself. As a gutter installer in Atlanta, GA, Cranor Roofing works with high-quality seamless gutters to ensure low-maintenance, long-lasting results.
Gutter repair: If you've noticed a section of your gutters has become detached, or if clogs are occurring with increasing frequency, it's time to get in touch with Cranor Roofing to have your gutters repaired. While many repairs are not terribly complex, if you let them go for too long, the risk of damage grows increasingly severe. Get in touch with us to get your gutters working properly again.
Gutter covers: Most people don't especially love cleaning their gutters. It's an often time-consuming and labor-intensive process, and it involves heights. Fortunately, Cranor Roofing can install LeaFree gutter covers and Universal Gutter Guards. These products are appreciated for their ability to prevent clogged gutters and protect your gutters against other environmental hazards. They also make cleaning your gutters easier than ever.
Free quotes: Many homeowners get nervous about home improvement projects and repairs, and the cost is often the primary area of concern. Cranor Roofing will happily provide free quotes for gutter installation and gutter repair in Atlanta, GA, making the cost as transparent as possible. We're also committed to keeping our rates affordable and competitive.
To learn more about Cranor Roofing, arrange a consultation or request gutter service, please get in touch by calling us at 770-831-7506. We look forward to serving you!