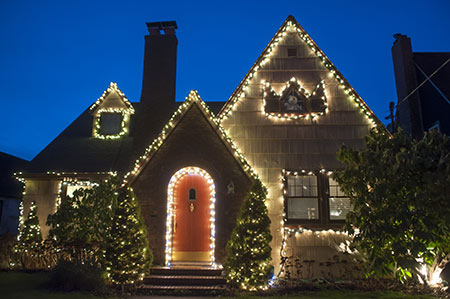 When was the last time you really got excited about actually hanging Christmas lights, rather than just thrilled about the end result? Let Cranor Roofing take this job off your plate! We're used to getting up on roofs, which makes the process of hanging lights a much faster and less stressful job for our team. Here's a closer look at how Cranor Roofing can help get your property ready for the season:
Christmas light installation: The winter holiday season is full of stress, and your to-do list probably seems like it's a mile long. And while you're probably looking forward to seeing your home all decked out for the holidays, the actual work involved in hanging up the Christmas lights is less appealing. Why not let Cranor Roofing handle your Christmas light installation in Atlanta, GA? We'll get your home looking festive in time for the holidays, saving you time and energy and helping you avoid perilous trips up and down the ladder.
Decorative lighting installation: Christmas isn't the only time you can benefit from decorative lighting installation. Cranor Roofing is also available to hang decorative lights for weddings, graduation parties, other seasonal holidays and more. Bring your event to life with decorative lights, or get your home in the spirit for Independence Day, Halloween, Thanksgiving or any other special occasion.
Residential and commercial service: While most of us think of hearth and home when we think of Christmas lights, residential properties are by no means the only ones that can benefit from decorative lighting installation. Cranor Roofing also offers services to commercial properties—get your shopping center, small business, apartment complex or office building in the holiday spirit!
If you're in need of a Christmas light installer in Atlanta, GA that can get the job done efficiently and to your specifications, we hope you'll turn to Cranor Roofing. Call 770-831-7506 to get a jumpstart on your holiday decorating!